Back Office 2021's Massive Improvement
Jul 30, 2021
Dear Valued Members,
We are proud to inform you about the massive improvement in our Back Office, which will be completed on August 2nd. By the virtue of many valuable feedbacks from members as well as our staffs for which Thanks AI is extremely grateful, upgrades have been made extensively.
Even though we were receiving many BackOffice improvement requests in the past, we couldn't carry out these requests as quickly as we hoped because we have to focus on creating a new system for newly opening countries.
Ever since the corona virus pandemic spread throughout the world, however, it hasn't been possible to move freely, let alone open a new country, so we made the most of this situation to carry out long awaited BackOffice upgrades.
Major upgrades are as follows:
1. Member card
The following items have been added into your member card:
• QR code for new registration
• URL for new registration: https://fastrack.jp/member/register/?recid= (membership's number)
• Recruit URL: http://www.thanksai-global.jp/?i=(membership's number)
• Member's title (the highest rank)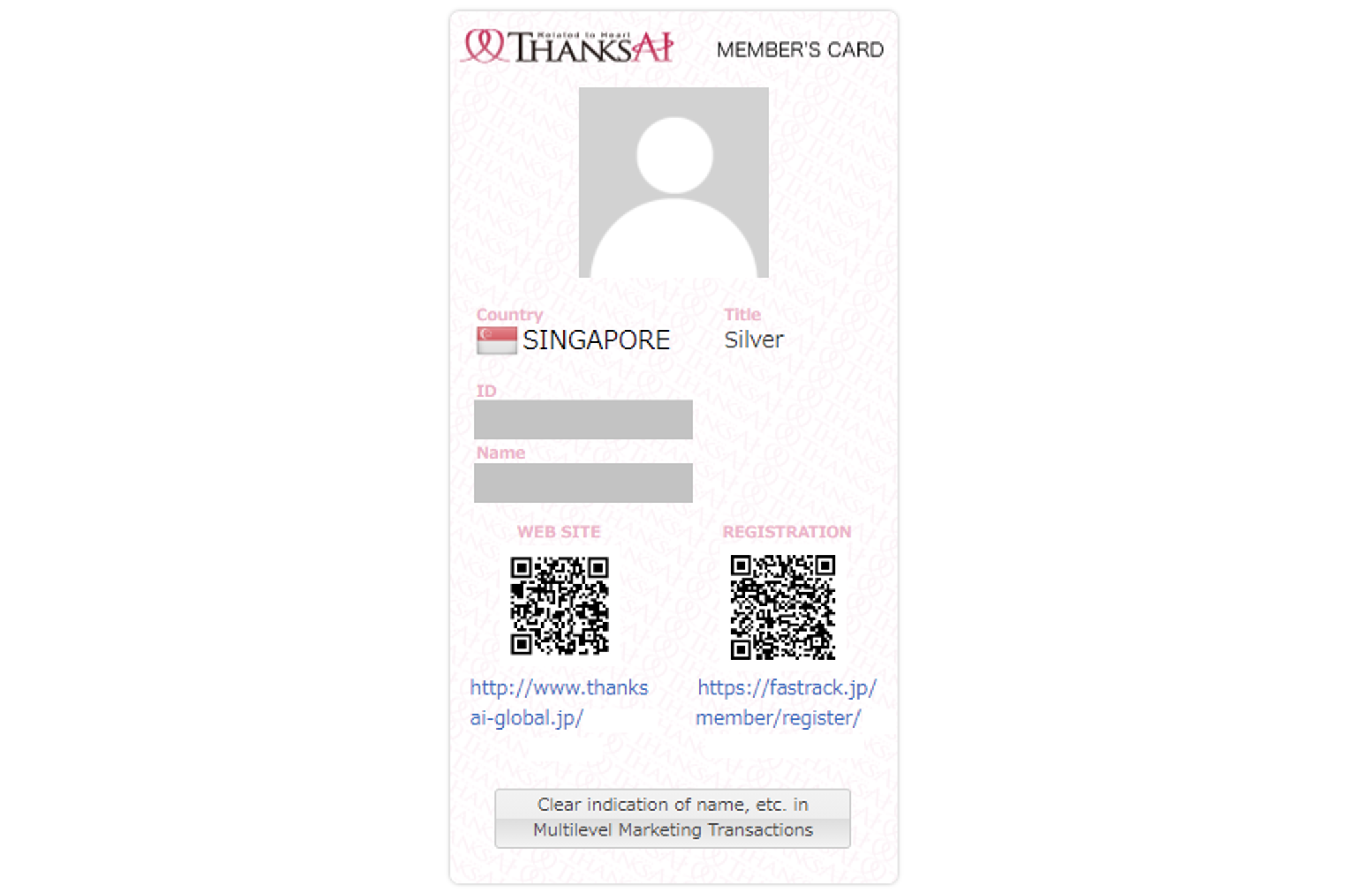 This change will help to shorten the process of new member registration.
Just by clicking on either URL for new registration or Recruit URL, you will be directed to the registration page where the new registered member will be your direct referral as sponsor membership number (your ID) will be automatically inserted.
2. Video
Links of YouTube channels of NFR and all the countries with Thanks AI' official offices as well as that of our president's webinar can all be found here.
Many videos about Thanks AI's policy, system and products in each country are uploaded in these channels and available in the local languages.
Whenever you need instructive, educational, or presentational movies relating to Thanks AI in variety of languages, you can satisfy your needs just by visiting this page.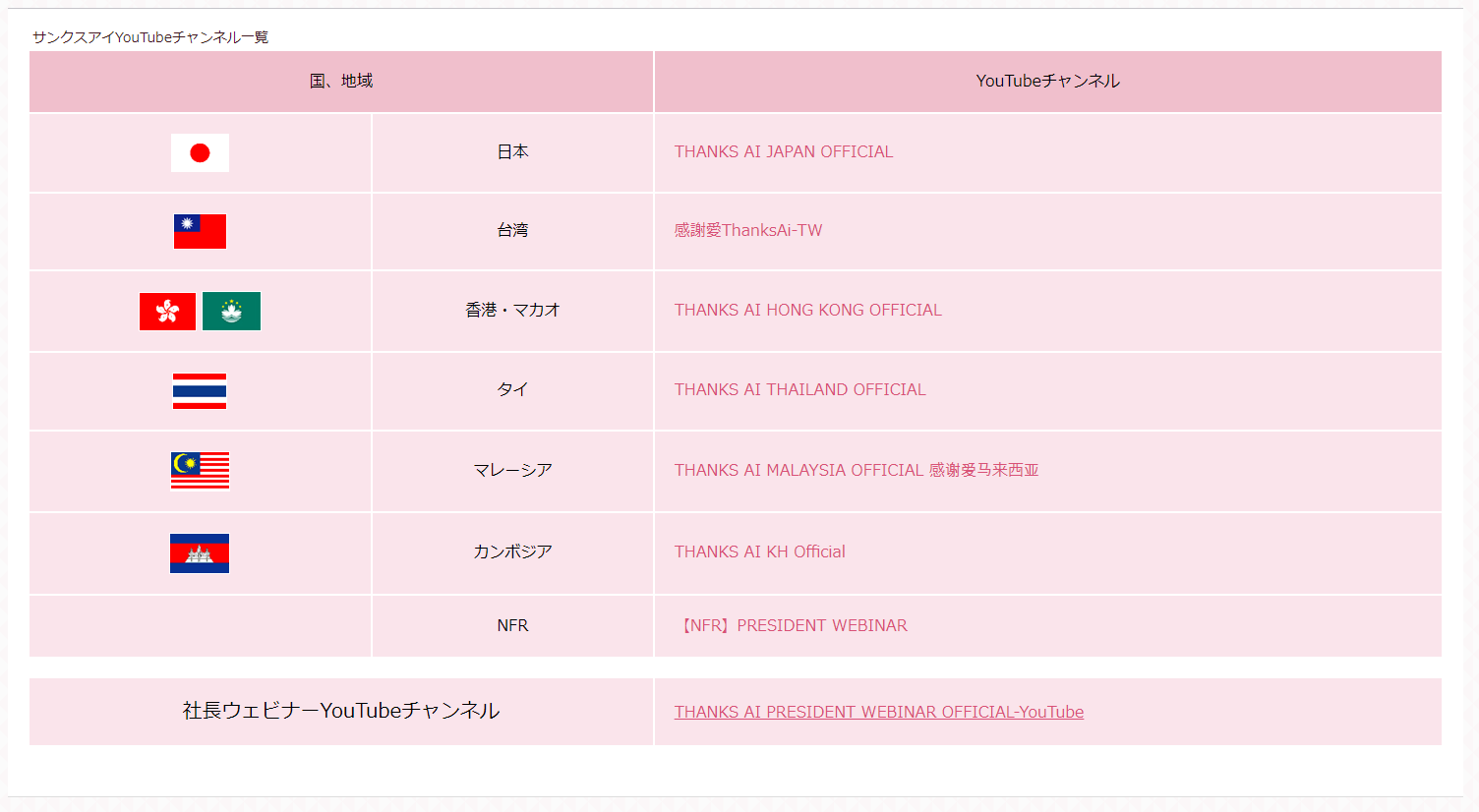 3. Analysis
If a member has no purchase transaction for a period of 6 months, his/her membership status shall automatically be changed into Revocation. Revoked membership cannot make purchase, recruit new member or receive bonus. They will also lose the right to receive the bonus accrued during their membership period.
In order for members to avoid experiencing these inconveniences without the actual intention of withdrawing, along with the current 6-consecutive-months-with-no-purchase reminder sent to member via Thanks AI's app, we decided to add a function in Analysis allowing members to check if anyone in your group will soon be revoked and be able to inform them promptly.

There are also many minor upgrades as listed below:

4. Daily commission, monthly commission in Global Bonus
• The order of ranks has been changed in Daily commission, monthly commission.
• The bonus advisor part has been removed.
• Currency change
JPY has been changed to PV in daily commission and monthly commission.

5. Illustration binary map
Some information which was before in Japanese has been changed to English.

6. Analysis
• "Nationwide" has been changed to "Countries".
• Countries are now in full name in English. For example: JP-Japan

7. Search
• "Search" function will be replaced by "Text Binary Map" in the menu on the right.
• "Japan" in scroll down is capitalized.

8. Back Office
English wording display in the whole Back office is more readable.

9. Brain
"Brain" has been removed from the menu.

Thanks AI's development and all our improvements so far would have not been possible without our members' continued trust and support.

We are trying every day to make your experience working with us the best we can to reciprocate your contribution. And to that end, any feedback from your side would be gratefully received.

Thank you & Best regards,
NFR Customer Services

/* */ ?>