Incentive Campaign for Taiwan Global Convention 2019
Jun 03, 2019
Dear our Valued Members,
Taiwan Convention incentive campaign poster
We are deeply grateful for the great support we have received in these 10 years. For the next decade, we will take new measures to bring more possibilities and benefits to people all over the world.
Special attention should be given to the Global Convention 2019 in Taiwan this October.
Please see the content below:
[Content]
Period: June 1 – July 31, 2019
Target: NFR members
During the period, if the following ranks (paid title) are achieved, a support bonus for traveling to Taiwan will be awarded according to the times of achievement. Depending on the achievement rank, travel companions will also receive support expense coverage.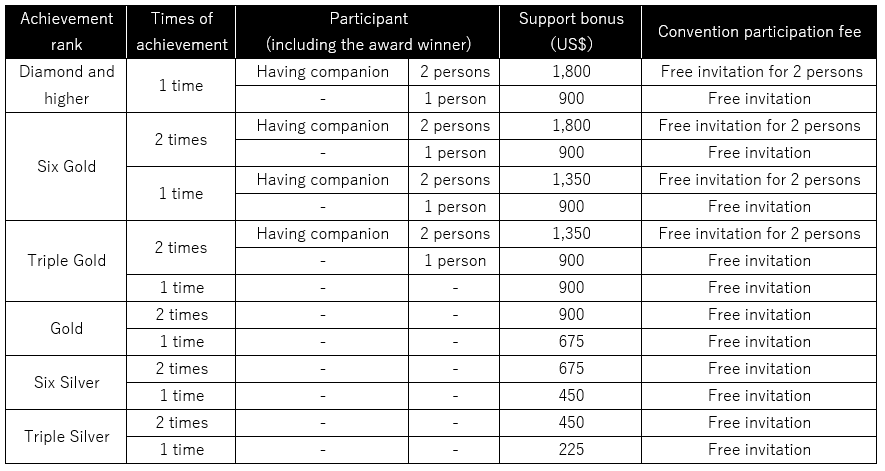 ※ If there is no companion, the benefit for one person will be awarded.
※Winners of the Incentive campaign can get maximum 2 free invitations.
For additional demand, Convention ticket can be purchased at USD 15.
[Note]
To receive support bonus, you need to attend the Global Convention 2019 in Taiwan.Please be noted that the support bonus cannot be paid to members if their participation in the      event is not confirmed, even if all campaign conditions are met.
Half of the support bonus is paid before the Convention when all of the Campaign Conditions are confirmed to be valid. The other half is paid on October 25th, after members' participation in the convention is confirmed.
Attendance to the Convention is required. If no attendance is confirmed, Incentive bonus has to be refunded or deducted from members' monthly bonus.
In order to receive companion's benefit, companion must also attend the convention. Companions can be people other than Thanks AI members, such as family members and friends etc.
Advance application to Convention is required. The application period lasts from August 1st to August 31st. Please make sure to send application within this period in order to reserve the right to attend the Convention. Application method will be informed later.
The campaign achievement rank is the paid title gained in June and July, regardless of the first or second time of achievement.
When the ranks achieved in June and July are different, the higher rank is considered as the achievement rank. For example, if member achieves Gold in June and Six Gold in July, the achivement rank will be one Six Gold rank, not two Gold ranks.
Special incentive for achieving new Gold or higher in Start-up campaign and the overseas invitation are treated separately from this campaign. If you are eligible for a Start-up campaign incentive and have achieved the new Gold Rank during this Taiwan Global Convention Campaign period, you will be able to earn the benefits of both campaigns.
The general participation fee of the convention is different in each country. Please refer to the information announced by each country.
Attendance right is not transferable.
In countries where visa is required, visa procedures and expense must be self-handled by members.
If any problems or violation of laws and regulations are discovered, member cannot earn campaign bonus even if the conditions are fulfilled. In addition, if a problem or violation is discovered after the campaign bonus is awarded, it will be deducted from member's bonus at the next time of occurrence.
/* */ ?>