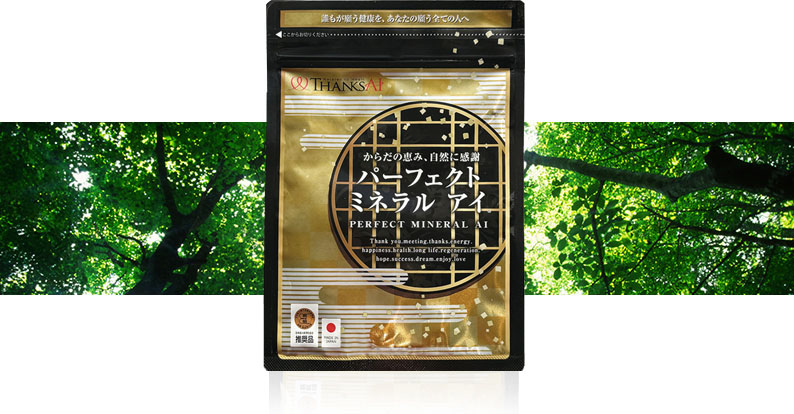 Perfect Mineral Ai(Powder)
Initial purchase:

JPY 1,000


The price does not include

additional surcharges.




Additional surcharges (packing fee, handling fee, currency adjustment factor, etc.): JPY 10,000

Repeat purchase:

JPY 750


The price does not include

additional surcharges.




Additional surcharges (packing fee, handling fee, currency adjustment factor, etc.): JPY 6,000
A blessing for the body,thanks to nature
"Perfect Mineral Ai" is a new mineral powder produced by blending acerola, citric acid, and vitamins.
Usage method
Take 1 packet per day with water.
Warnings
Consume as soon as possible after opening.
If it does not match your constitution, discontinue use.
Since natural ingredients are used, the color tone and scent may vary, but there is no problem with ingredients and safety.
Check the ingredients and do not take if you are allergic.
If you are taking medicine, in hospital, or pregnant or breastfeeding, please consult your doctor before taking.
Keep out of reach of small children.
| | |
| --- | --- |
| Description | Processed food containing plant-based minerals |
| Ingredients | Organic fulvic acid mineral extract (derived from humid shale), lactose, acerola powder, organic fulvic acid extract (derived from humid shale), citric acid, granular silicon dioxide, VB2 |
| Contents | 30 g (2 g x 15 packets) |
| JAN | 4573175517131 |
| Certificate of Analysis | COA of JAKIM accreditation organization |