Incentive Tour Campaign
Nov 01, 2018
Dear Valued Members,
We are pleased to announce the Tribute Ceremony held in Osaka, Japan on March 2nd 2019. Along with this Ceremony, an Incentive Tour Campaign is launched to honor our valued members who have had magnificent achievement.
Please refer to the content below for more details.
Target: NFR members
Date & Time: March 2nd 2019 (Saturday)
Ceremony: 12:00~15:00
Party: 18:00~20:00
Venue: Stage 33, Universal Studios Japan, Osaka, Japan.
Content: Members are eligible for the coverage of an Incentive Tour to Osaka, Japan to join our Tribute Ceremony if meeting the eligibility conditions as follows: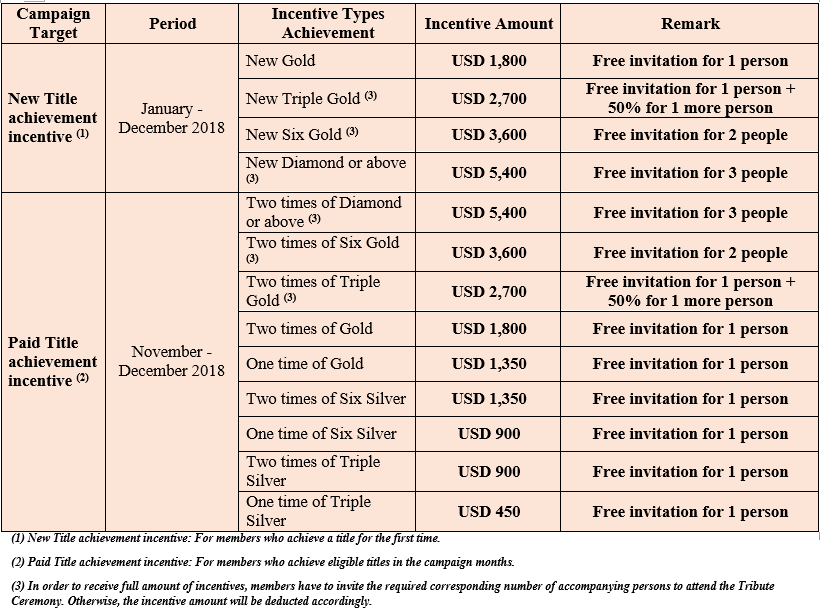 Incentive Reception Conditions: Members can receive the campaign Incentive bonus if meeting the following conditions

Attend the Tribute Ceremony held on March 2nd 2019.
Submit the Incentive Tour Application Form within the period of January 15th 2019 – February 14th 2019, attached with proof of your travel reservation.
Members have to register at the reception desk when joining the Tribute Ceremony. If members fail to register, Incentive bonus has to be refunded or deducted from members' monthly bonus.
In order to receive full amount of incentives, members have to invite the required corresponding number of accompanying persons to attend the Tribute Ceremony. Otherwise, the incentive amount will be deducted accordingly.
* Note:
If members fail to meet any of the Incentive Reception Conditions, they are not eligible for the incentive.
If application submission is failed for any reason, no incentive can be received.
If members meet the conditions of two incentives or more, they can get only one type of incentive which has the highest value.
Members eligible for the incentives will receive the convention ticket including entrance fee to USJ and the dinner party.
Flight tickets, traveling and accommodation are handled by members. Members are supposed to prepare passport and necessary VISA by themselves. For countries which is difficult to issue tourist VISA, please contact us.
The coverage of the Incentive Tour is paid in money. Half of the amount is paid before the Tribute Ceremony when all of the Incentive Reception Conditions are confirmed to be valid. The other half is paid after the Tribute Ceremony together with regular bonus.
The total amount of the award is regarded as the personal income of the award winner and must be declared in accordance with the tax law.
Invitations are offered and issued based on the eligibility conditions and the information specified in the Incentive Tour Application Form by members. The ones who get invited by members can be people other than Thanks AI members (spouse, children, etc.).
For the Incentive Tour Application Form and the Stage 33 location map, please refer to Download in Fastrack or the links:  https://www.mediafire.com/file/1eo6pmddm16elql/33_Stage_Studio_Map.pdf/file  http://www.mediafire.com/file/ad9ujbzyn6lz9wf/Incentive_Tour_Application_Form.pdf/file
Should you have any questions about this campaign, please contact us via nfr@thanksai.jp.
/* */ ?>