Thanks Ai Global Convention 2019 – Special Announcement!!!
Mar 11, 2019
Dear valued Members,
A lot of Thanks Ai's Members from all over the world joined us at the Global Award Event 2019 held on March 2nd.
Thank you very much for your participation! Congratulations to everyone who received the award!
We would like to summarize the content of the announcement including the important information delivered by Thanks Ai president Makoto Fujiwara in this 10th-year anniversary of Thanks Ai.
————————— Thanks Ai's Philosophy —————————
Our 10th-year anniversary was greatly welcomed and supported by everyone.
In pursuit of further ultimate form in this memorable year, we decided to evolve our company's philosophy, under which we will achieve further leap:
(Old)豊かさの先に食べられる喜びを
Taste the joy that abundance brings.
(New)誰もが願う健康を、あなたの願う全ての人へ。
               Health everyone loves to everyone you love.
————————— Attack Chance Campaign —————————
<Target month: April, August, December 2019>
In the target months of Attack Chance Campaign, in the Balance Bonus, add 200 boxes, 450 boxes and 800 boxes to the number of boxes of GOLD ranks.
By increasing the number of target boxes, the upper limit of Balance Bonus amount increases, resulting in the increase of total commission.
<Attack Chance Campaign's Balance Bonus Table>

* To receive the bonus, you need to purchase 12,000 PV (1 box) or more in the month.
* The normal balance bonus is applicable except for the campaign target months.
————————— "Plus 1 to all" Campaign —————————
<Target month: December 2019>
When you purchase product(s) in the campaign target month, you can get the same quantity of the same product as present!
The maximum quantity of "Plus 1 to all" Campaign present can be up to 4 full boxes/ month.
The campaign is applicable to all Thanks Ai products.
* Example 1. When you purchase 1 box, 1 more box is given as present.
If you purchase 2 boxes, 2 more boxes are given as present.


* Example 2. The number of PV is unchanged, only the same quantity of products is given as present

* Example 3. Newly registered member who makes first purchase of two boxes can choose 1 box of any product as inital present, and 2 boxes as present of "Plus 1 to all " campaign.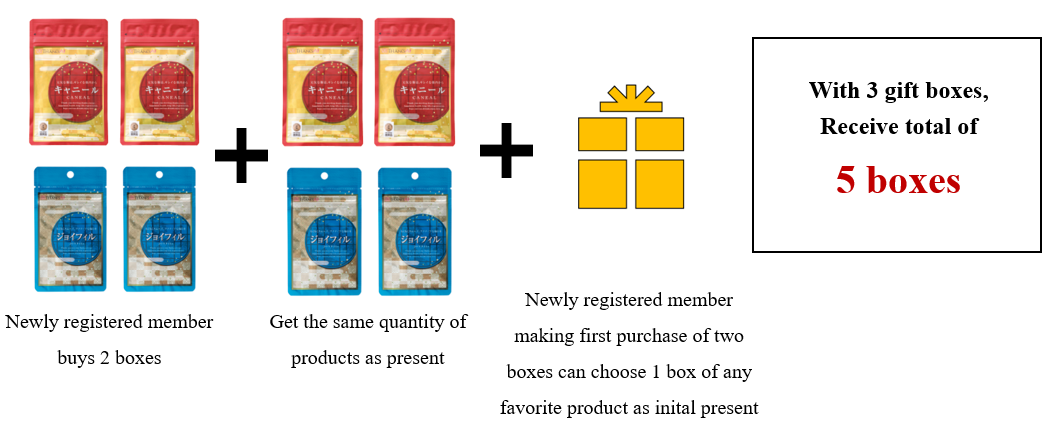 ————————— Introduction of the new rank – CROWN DIAMOND —————————
In order to realize the dream of producing World No. 1 distributor in MLM industry, we decided to introduce a new rank – CROWN DIAMOND.
New Rank Name: CROWN DIAMOND
<Rank Achievement Conditions>

<Balance Bonus>

<Global Bonus> Include the total of the shares for each rank completed and below CROWN DIAMOND.

<Reward only for CROWN DIAMOND achievers>
Once you achieve the CROWN DIAMOND, we will create a new account directly above your account on the binary map.
When this new account also achieves the CROWN DIAMOND, we will make another second separate account. By doing so, the possibility of bonus achievement spreads to infinity (Detail as below).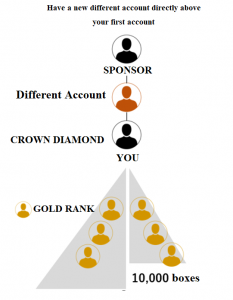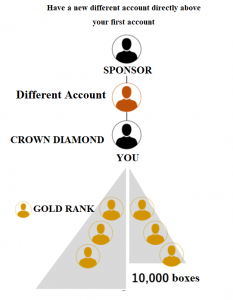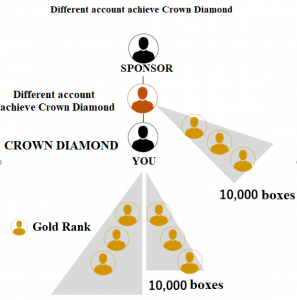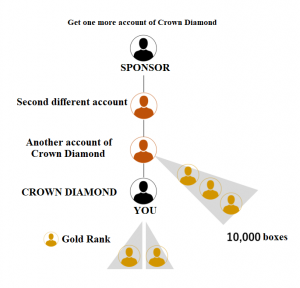 ————————— Place and Date of the Global Convention 2020 —————————
Global Award Event 2019 ended in great success, but even a bigger and better Global Convention will be held next year!
It has been 5 years since the Global Convention 2015 – BIG BANG. Thanks Ai has made great leap in the world. Once again, in the same venue of Tokyo Dome City Hall, the Global Convention 2020 will be held on Thursday, March 5, 2020!
Date: Thursday, March 5, 2020
Venue: Tokyo Dome City Hall, Tokyo (https://www.tokyo-dome.co.jp/tdc-hall/)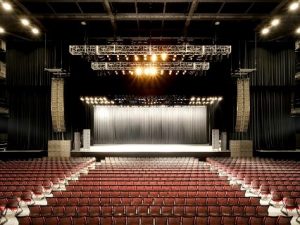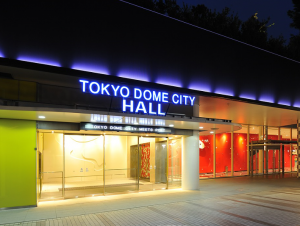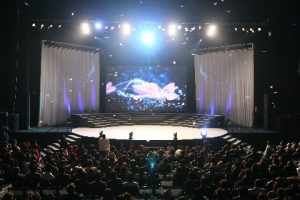 /* */ ?>